Many of our clients have little or no knowledge of web design and do not possess the software, time, ability or inclination to produce a professional looking site. Traditionally, web designers have held the "magical keys" to sites they have worked on, to ensure that when a client wants to change the content of their site, they have no option but to continue using the services of that designer… But Things Are About To Change!!!
We are now able to offer customers an affordable, easy to use, website design service with an extremely fast turn-around…
If you can use a word processor and your internet browser, you can use your new website!
Full CMS (Content Management System) Site

Update the site contents at your own convenience, day or night… even on public holidays!

No need to have knowledge of complicated web programing languages such as HTML, PHP, CSS, Javascript etc

Add / Remove / Hide pages at the click of a button – Great for Seasonal Offers etc!

Custom designed backgrounds, colour schemes etc to match your existing corporate identity

Option to have a Blog / News Feed, making your site more attractive to revisit regularly

Unlimited pages

Embed multimedia such as Videos from YouTube, Photos etc to make your visitors' experience more enjoyable

Simple to follow instructions on how to upload your new site, add content, etc.

Automated & fully optimized for Mobile Phone (Cell) viewing, without having to host duplicate sites and complex codes, so that your visitors can access and view your important content on smart phones & tablets

Your logo as a FavIcon (The small image that shows on your browser tab)
No need to employ the services of a web designer ever again!
Full Mobile Phone Optimization
Your new website will be as easy to read on a smartphone as it is on a laptop, tablet or PC! The above image contains actual screenshots of the same website viewed on a laptop and an IPhone. The software used to create this site intelligently drops useless data and reshuffles the layout of the site to make it more accessible for mobile viewing. Now your visitors can easily read the text on your site without the need for magnifying the page and having to constantly scroll left & right, and up and down to get the information you want to share!
Still not convinced?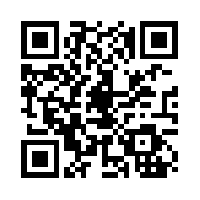 If you have a smartphone with a QR reader, scan the above code in to easily access this site, or just type "www.hypnotic-consultants.co.uk" into your phone's browser. It's exactly the same address, the exact same important content, but it's far easier to read "on-the-go" than many sites out there.
Once your new site design has been completed, you will be supplied with a master zip file ready to upload to your own hosting service, and begin adding your content immediately.
Already have an existing website with great content? Let us transfer your online content into your new site so that it's ready to go immediately!
Hypnotic Consultants recommend D9Hosting for a great unlimited hosting package
PORTFOLIO
Hypnotic Consultants have designed websites for a range of clients including –